2009年 02月 22日
例のピーター・シンガーのインタビューがありました。私の周辺の戦略学仲間の間では、この本についてかなり話題になっております。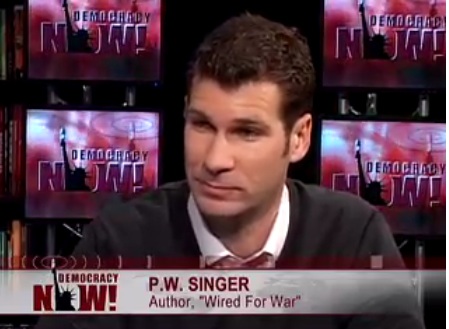 "Wired for War: The Robotics Revolution and Conflict in the 21st Century"
The US has carried out thirty drone attacks on alleged al-Qaeda targets inside Pakistani territory since last summer, killing an estimated 250 people. The Predator attacks highlight the US military's increased use of unmanned aerial vehicles and other robotic devices on the battlefield. We speak to P.W. Singer, a former defense policy adviser to President Obama's election campaign and author of Wired For War: The Robotics Revolution and Conflict in the 21st Century. [includes rush transcript]
近年の傭兵会社関連の有名な本(コーポレート・ウォーリアー)を出している人ですね。私も発売当初に買いました。この人はオバマ政権の移行チームでもアドバイザーをやっていたんですね。
このインタビューの最初の部分だけでも非常に面白い発言が(笑
===
AMY GOODMAN: Let's start with Pakistan. Explain what these unmanned drones are.
P.W. SINGER: Well, you're talking about systems that can be flown remotely. So, the planes, these Predator drones, are taking off from places in, for example, Afghanistan, but the pilots are physically sitting in bases in Nevada. And there, you have incredible capabilities. They can see from a great distance. They can stay in the air for twenty-four hours. And so, they're very valuable in going after these insurgent and terrorist hide sites, which is in, you know, mountainous terrain, and it would be difficult to get US troops in.
But the flipside is that there's a question of what's the message that we think we are sending with these systems versus the message that's being received on the ground
, in terms of the broader war of ideas.
AMY GOODMAN: What do you mean?
P.W. SINGER: Well, so, I spent the last several years going around trying to meet with everyone engaged in this robotics revolution, everything from the scientists behind it to the science fiction authors influencing them, to the drone pilots, to the four-star generals, but also went out and interviewed people in the region.
And this question of messaging,
one of the people that I met with was a senior Bush administration official, and he said, "The unmanning of war plays to our strength. The thing that scares people is our technology."
But that's very different when you go meet with someone, for example, in Lebanon. One of the people that I met with for the book was an editor of a leading newspaper there. And
he had to say that basically this shows that you are cowardly, that you are not man enough to come fight us
. So a disconnect between message we think we're sending versus message that's being received.
Or another illustration of this would be, there was a popular music—
one of the hit songs in Pakistan last year talked about how the Americans look at us like insects
. Shows you how it's permeating pop culture. So you have this balancing
===
アメリカ側はテクノロジーを使うことによって「これは俺たちの強みだ!俺たちの優れたテクノロジーで奴らは恐怖を感じている!」と考えているらしいですが、逆に地上で爆撃される方は「アメリカは卑怯で正々堂々としてない。やるならここまで来て勝負せんかい!」と言っているということですね。
しかも去年にパキスタンで流行した歌の中の一つに「アメリカ人は俺たちを虫けらのようにしか見ていない」というものがあったとのこと。
テクノロジーに対する感覚の違い、そして「戦士」の文化の違いなどが出てて面白い。